It's not an SC, but I thought I'd post it here since it is an MN12, dunno if there would be any interest, but I figured it'd reach a bigger crowd.
(copied from TCCOA)
Well, the time has come and I think I'm comfortable with the idea of selling my Thunderbird. My priorities and interests have changed a lot within the last few years, and I don't get to enjoy this car nearly as much as I used to. It's only had a few thousand miles put on it in the past few years, and stays tucked away in the garage most of the time. I even had to put a new battery on it recently since the old one died from setting so long.
I think most people here know the car. I've had it myself for 8 years now, and have spent countless hours working on it, not to mention thousands of dollars. So, onto the complete mod list...
1995 Thunderbird LX
4.6L SOHC - 4r70w
Black exterior, grey/black interior
Odometer shows 217,xxx...most of the drivetrain has approximately 30k miles
Exterior
Thunderbird SC Body Kit
96/7 Thunderbird Headlight and Corner Light Swap
96/7 Thunderbird Cobra "R" Ram Air Hood
18"x9" and 18"x10" Black/Polished Lip Deep Dish FR500 Wheels
Clear Front Corner Lights
Interior/Audio
Custom Black Leather Thunderbird SC Seats - Power fronts, split rear
Black Carpeting
Tripe Gauge A-pillar Pod
94/5 SC Center Console with handbrake
Autometer Oil Pressure, Trans. Temp, and Water Temp Gauges
Blue and Silver Painted Accents
Pioneer Head Unit (mp3, USB, iPod)
Ford Premium Sound 6"x8" Speakers
Suspension/Tires/Handling/etc
Intrax Lowering Springs
Gabriel Shocks
89 Thunderbird SC Stabilizer Bars
245/45/18 Goodyear Eagle F1 Tires (front)
275/40/18 Nitto 555 Extreme ZR Tires (rear)
Mustang Hub Swap
13" Cobra front brakes
Engine
2002 Mustang "PI" shortblock
Modular Mustang Racing Stage 2 Ported and Polished Heads
Comp Cams "Beehive" Valve Springs
VT Engines Stage 2 Street/Strip Cams
Ford "PI" Intake
Professional Products Polished Intake Elbow
Professional Products Polished 75mm. Throttle Body
JLT Ram Air Intake
90mm. Ford Lightning MAF Sensor
24# Ford Racing Injectors
Ford Racing A/C Delete
Steeda Underdrive Pullies
Kooks Midlength Headers (big version)
Custom Dual Exhaust (has extra o2 bung), 2.5" pipe, 3.5" slash cut tips
Magnaflow Dual In/Dual Out Muffler (midmount)
Tuned by Dave Guy of SGS Automotive, very reputable tuner, conservative tune
Drivetrain
2001 Mustang GT Transmission
Precision Industries Stallion 3800 stall converter (rebuilt by Circle D)
Ford Lightning EPC Solenoid
"JMOD" 300-hp Level Shift Kit
B&M Aftermarket Transmission Cooler
Metal Matrix Composite Aluminum Drive Shaft
4.30 Trak-lok Limited Slip Rear End
Front drive shaft safety loop
Not installed, but included with car:
Two 17" Mustang GT wheels with stock tires
Zex 75-125 Nitrous setup (only needs jets)
Complete S&W 8 point roll cage, pre-bent, just needs welded in
Rear end cover brace
The mod list is quite long, and all the work has been done by myself, no hack jobs. The car isn't perfect...the "bads"...
-Biggest issue is it could use a paint job. Most of the car has the original paint, which has started to fade. No major dents, only 1 or 2 small door dings. No rust either. The car was in a front end collision about 6 years ago. There was no frame damage, and I rebuilt the car myself. The only that still remains from the accident, is the big metal bar behind the bumper cover is bent up on the end (no way to see this with the cover on).
-With the 4.30 install, the speedometer is off by a good bit. This affected the tune as well, since he couldn't make a full dyno pull. The car kept unlocking the converter at high rpms due to the speedometer. Needs a speed-cal installed.
-No trunk liner.
-Interior carpet has a few spots were I trimmed a little too much around the center console.
-No converters in the exhaust. We don't have emissions here, so I didn't have them put in. I think the exhaust sounds great as is...it's very loud, but has a great rumble that turns heads every time I have the car out.
Performance wise, the car put down 283whp and 295 lb/ft on the dyno last year. I think it would've pulled a little higher had we not had the gearing issues. It has a very good dyno curve, and pulls very hard in all gears at any rpm. My best time to date was last fall which was a 12.79@104mph, I still think it has another tenth or two in it as it sits with some minor tweeking. Plus, with the addition of the included nitrous, you're looking at a turn-key low 11 second car.
I've tried to list everything I can think of, good, bad, or otherwise. Like I said, it isn't perfect, but I've put a lot into this car and would like to see it go to someone who would appreciate it themselves.
Pricewise, I have no number in mind, but I will entertain any reasonable off, please, no low ballers. I'm in no hurry to sell, and will continue modding the car in the mean time, and will wait for someone that will appreciate the car and not destroy it. I know the car is 16 years old now, and I know I'm not going to get anywhere near what I have invested, I'm comfortable with that fact. Any questions, please ask or PM me.
For a few pics, these are the most recent I have...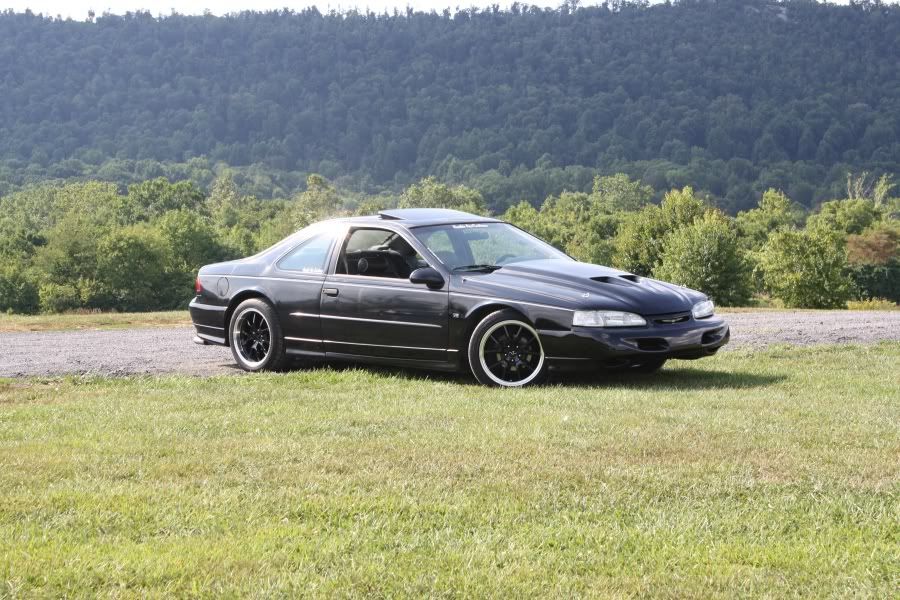 Here's the best exhaust clip I have of it, from when it was on the dyno. Crappy quality, but it gives you a slight idea of the sound...
http://s20.photobucket.com/albums/b2...=VIDEO0004.mp4
I have literally hundreds of photos of the car over the years, through it's different "phases" and documenting all of the modding.