Hi. I'm Jeff.
Long time lurker here. I used to have an account here a long time ago but never used it much. Loved T-birds and specifically SC's basically forever. Currently T-Birdless but started an engine project regardless for when I get one. This project started off with the idea of putting split-port heads with the M90 with a modified/custom intake manifold before it branched out into what will be 2 different projects, 1 for an eventual existing SC engine and the other a turbo 4.2. While I am Thunderbird impaired at the moment I have access to a full machine and fab shop so I can keep busy making parts and such.
I started this project back in fall 2018 so I have 6 months of photos and such to get out of my system.
As I mentioned it started out with the idea to mate the split-port heads to an SC supercharger setup. I found a few people online that attempted it so I figured why not, and picked up a set of low milage 2005 split-port heads from the salvage yard. Next I needed an intake manifold to start with. I decided upon on Freestar intake because it has large open ports and no EGR stuff to deal with plugging. I removed the butterflies from the intake and plugged it with a solid piece of aluminum rod and JB Weld. After that I needed to make the M90 mate to it so off to Solidworks I go. Here is what I came up with.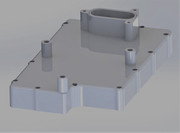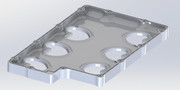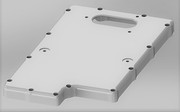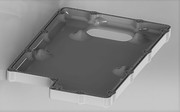 After being happy with the design it was time to machine it. First I milled an inch off of the Freestar intake to open up the ports and to help with hood clearance. After that I put some 6061 aluminum in the mill and started making chips. I used HSM Works to develop the cnc programs for it.