The ARP sticker on it was not just for show apparently as it did have ARP studs on the heads as well as Comp pushrods and a mild cam upgrade over stock.
Some teardown pics.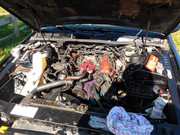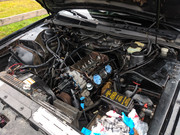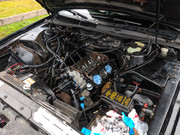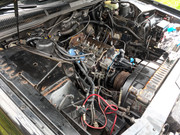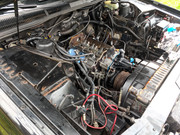 I managed to set the engine bay slightly on fire while trying to remove the passenger side O2 sensor around this time. It refused to budge so I enlisted some help from my propane torch which ignited a rag near the sensor that I did not see that then ignited the rags and plastic that were keeping the engine covered. I ran to the kitchen and grabbed the fire extinguisher and put the fire out before it got really bad but in doing so I covered the engine bay and now partially exposed short block with dry chemical extinguisher powered. That was not fun to clean up and that stuff got everywhere and into everything. The only damage was some half melted wiring harness connectors which I have since replaced.
That broken plug was a miserable bastard to remove even with the head off the car and on the bench. There was no way that was coming out in the car. It mostly came out in pieces and flakes of steel and every one of them put up a fight and I had to put a threaded insert in after finally getting it all out.
Since the top end was apart anyway I might as well give it a work over and do some porting. Again, so much for the quick repair job....
The heads were in pretty good shape and I forcefully restrained myself with limited success from going too crazy with them. After cleaning them up I put them in the milling machine and roughed out a gasket/port match 1 inch deep in each intake port before manually finishing them with carbide burrs and sanding rolls. The rest of the intake port just got a light going over to clean up the rough stuff as well as some bowl work. The exhaust side was gasket matched and ported/polished by hand, they were not put in the mill. The exhaust side had some bowl work as well.
The combustion chambers were opened up a bit to unshroud the valves and then polished. The valves were then lapped into the seats and vacuum tested to check the seal. Some new seals and paint and they were ready to go back on.
They were reinstalled with MLS gaskets and copper gasket spray.