As some of you know, on the Dyno at the shootout my 255lph pump that feeds my surge tank died. This was a bummer because I really wanted to put a good number up and race. So I crammed to get a new pump and make a track rental today. My good buddy brought his sport bike and my other good buddy Dave Dalke showed up.
First pass blew the tires off through first and second, with an e.t. of 11.23 at 134. This was a 2.1 60ft. Based on the mph and amount of pedaling I had to do, I knew a 10 was possible with traction.
Pass two I lowered the tire pressure, did a longer burnout, and gave it another shot. This time even worse traction. Dalke mentioned the car had no weight transfer and suggested a shock adjustment. So I adjusted the shocks and checked the pressure in the tires again. My gauge said 14psi, which was right what I wanted. I looked at my buddy Dan's mustang with 14psi and his tires were much more bulged. I borrowed his gauge and sure enough, 17psi. So I dropped them to 14 real psi and went back out.
Two step set to 5k rpm, fresh glue on the track and let it eat. The results!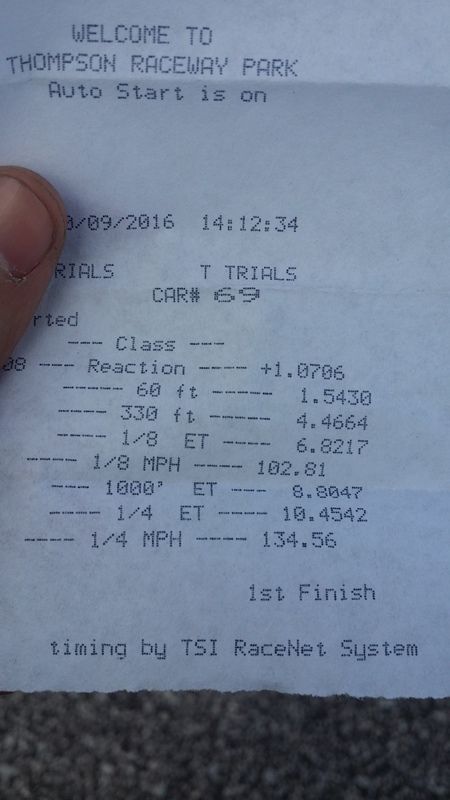 And the video, excuse the language, my buddy knew I was shooting for a 10, he may have been more excited than me!
https://youtu.be/G616f-F74hE
This was full weight 3737lbs as confirmed at shootout, without me in it. This is on the same tune, fuel, tires, and weight that I drive the car on to go get groceries.
Last edited: